Consistent high-level stainless steel processing technology inherited from Japanese companies
Inheriting stainless steel processing technology which was developed by Nissho Astec Co., Ltd. in Japan and having various processing processes such as machining, buffing, electrolytic polishing, welding.
Vina Astec is capable of handling mass production products, custom-made products, and construction projects.
In recent years, we have been receiving high evaluation not only from Vietnamese and Japanese companies, but also from various companies in neighboring countries.
Machining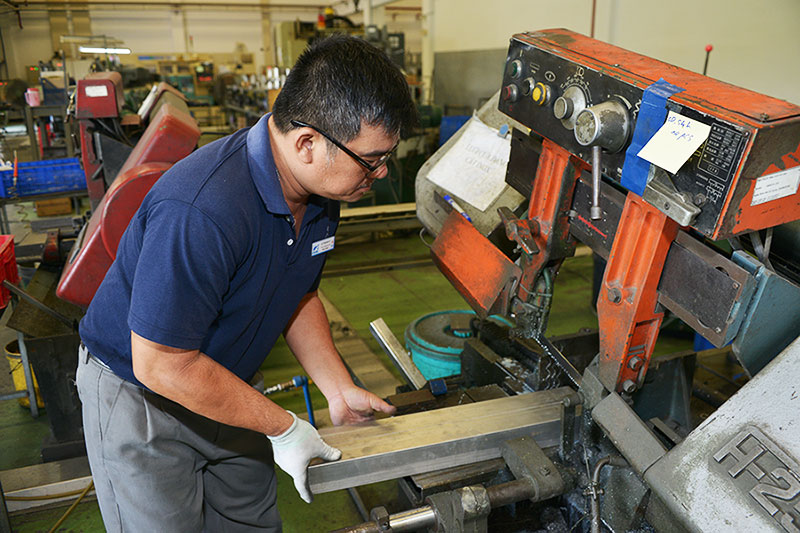 We have several medium-sized NC machines and general-purpose cutting machines.
With these cutting machines, we can handle casting dies, press dies, screw joints, small parts, etc., from 1 piece to annual mass production.
In prefabricated piping, after being cut accurately, following by the chamfering cutting process, finished products always has a stable weld finish.
Also, since it is the key to manufacturing equipment and jigs for other processes, one of our strengths is our machining team.
Burring
One of our strengths is the burring process.
We have completely inherited the burring technology, which is the strength of our parent company, Nissho Astec, and now, we are proud to be able to provide the same quality as in Japan.
We can perform burring process on big size pipes like 400A pipe with same burring diameter. The burring process makes it possible to manufacture branch pipes without using TEE fittings, reducing the number of welding points and improves the accuracy of the pipe length, which shortens the pipe assembly time on site and leads to a reduction in total cost.
The types of burring dies are increasing gradually, so please feel free to contact us for available sizes.
Buff Polishing (for Fittings and Parts)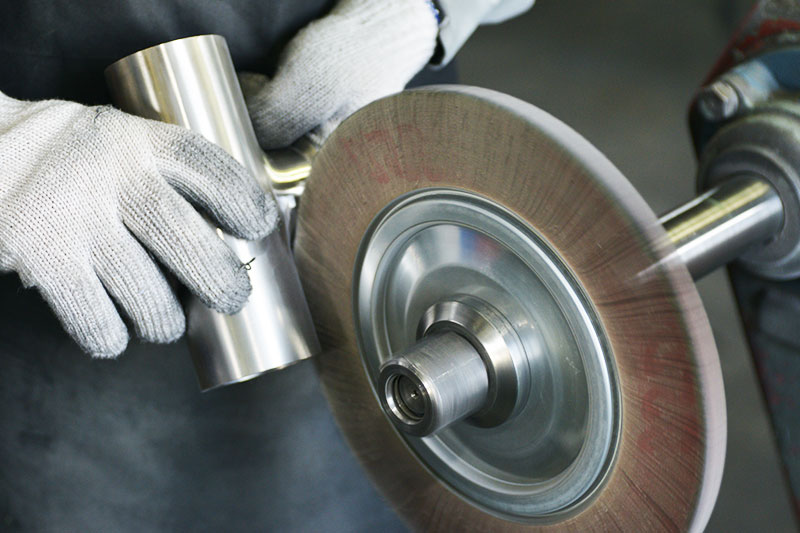 One of our strengths is our buffing team. Most of our more-than-80-worker team have reached the craftsman level.
In addition, the strength of buffing is not limited to the quality and quantity of craftsmen. We are particular about the polishing materials used, and we manufacture flap foil and tripoli in-house.
We use carefully selected auxiliary materials, including purchased items. Therefore, our polishing quality always maintains high stability.
* Please contact us for consultation about mirror finish buffing of titanium products.
Buff Polishing (for Pipes)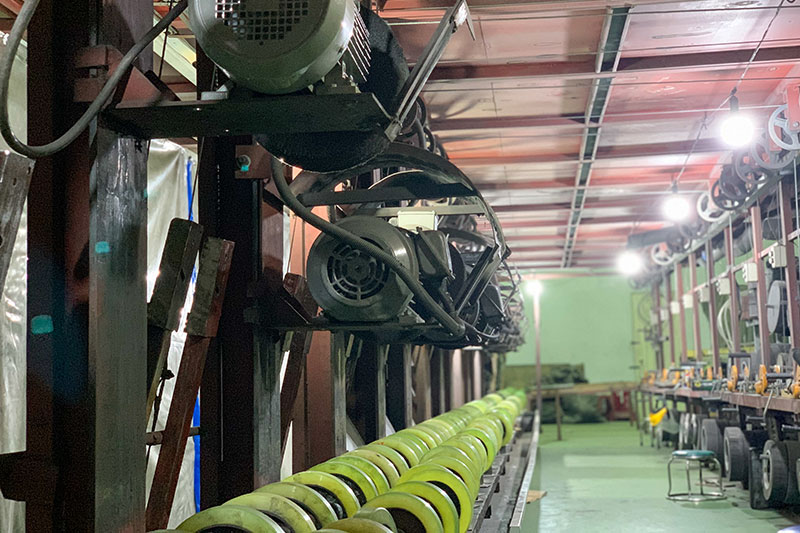 One of our advantages is that we can make the necessary equipment in-house. We manufactured all of our pipe inner surface polishing machines and pipe outer surface polishing machines in-house.
In addition, we have two types of equipment for inner polishing, the "vertical polishing method" and the "horizontal polishing method", and the equipment is properly used in accordance with pipe's inner diameter.
The maximum length of a pipe that can be polished is 6 meters, and up-to-20-meter pipe can be polished when performing internal vertical polishing.
Since polishing takes a large amount of time depending on the skin condition before processing surface, the quotation may be just approximate estimate if there was no sample pipe in advance.
Electro Polishing (for Fittings and Parts)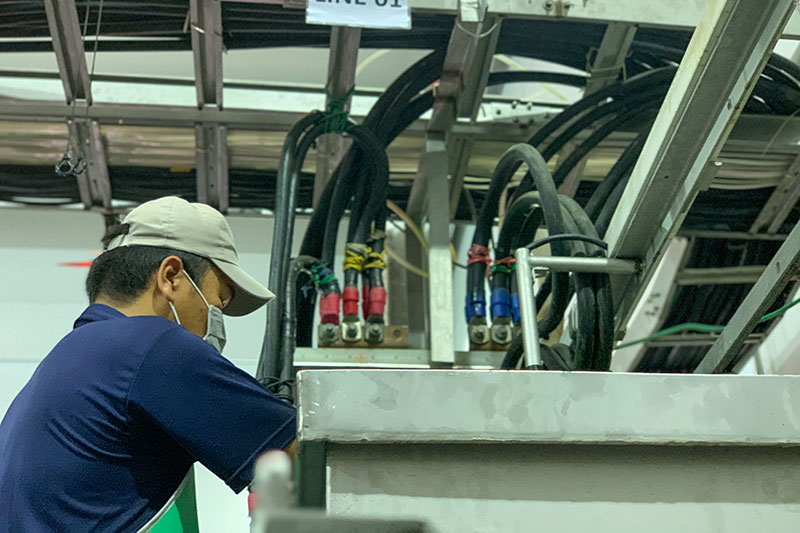 One of our strengths is electro polishing/EP.
Thanks to our strength of being able to make the necessary equipment and jigs in-house, together with the technology and know-how inherited from our parent company – Nissho Astec, we have been receiving orders from not only companies in Vietnam but also in Japan, East Asia, Southeast Asia, and Europe.
We may undertake on-site EPs depending on the circumstances, but as a general rule, operation is done within our factory. Electropolishing of materials other than austenitic stainless steel often requires time for testing and verification.
---
About electro polishing (EP) ; NISSHO ASTEC CO., LTD.
About electro polishing (EP) of aluminum
---
*EP:Electro Polishing
An electrochemical process that reduces the surface roughness of metals such as stainless steel, aluminum, and titanium by an electrolytic reaction to form a passivation film with concentrated chromium. After the process, the surface finish of the metal becomes strong, smooth and shiny.
Electro Polishing (for Tanks and Containers)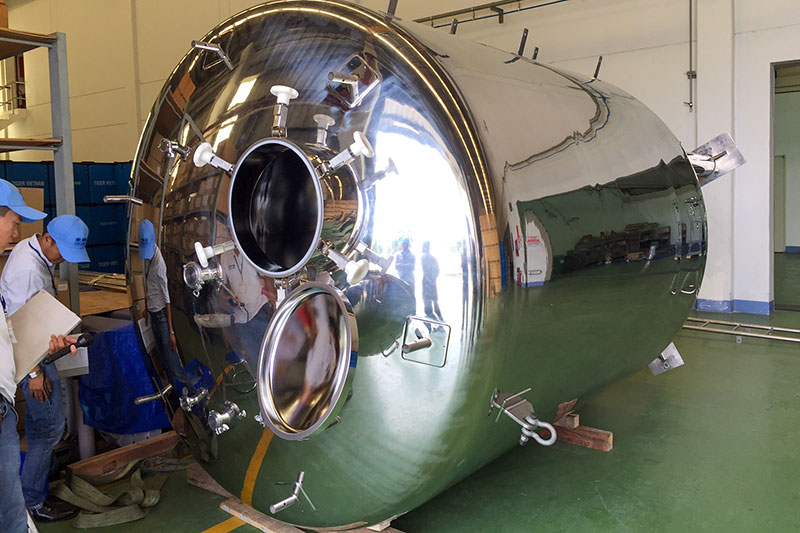 One of our strengths is large tank EP/small container EP.
Since we started electro polishing of containers for the first time in Vietnam, we have grown to be recognized as a leading EP service provider in Vietnam.
We make specialized equipment, jigs and tools in-house according to the final purpose, and provide electro polishing/EP to meet your needs. Some of these equipment and jigs are unique in the world.
The maximum stainless steel container's capacity in the past: 15,000L
EP quantity of small containers processed annually for mass production: 1 million bottles a year